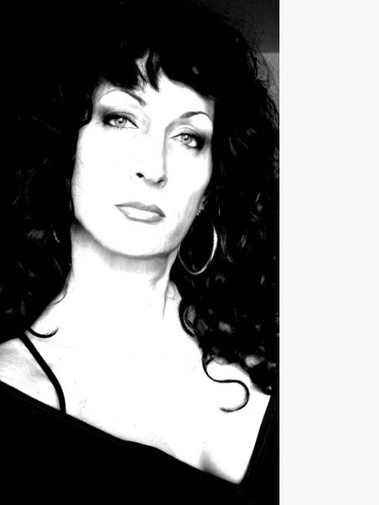 Inspired by the glamorous iconic women of American and Italian cinema Virna moved to New York City in 1992 to study at The Fashion Institute of Technology. While at F.I.T. Virna's passion for the transformational image overwhelmed her, and inspired by the outrageous club culture of NYC in the nineties Virna began developing her makeup skills in the underground nightlife of the New York.
Eventually makeup became her obsession and she decided to dedicate her career to the makeup industry. She then began work as an makeup instructor at Make Up For Ever in Bologna, Italy in 2002, and in 2011 she was represented by the Allure Model Management.
As a makeup and beauty consultant for YSL, Loewe, Dior and Guerlain Virna traveled throughout Italy to introduce sales and marketing strategies and educate clients on the use and application of makeup and skincare products.
Virna continues to expand her expertise as a makeup artist working on a wide range of projects from e-commerce to theater, and collaborating with actors and performers in New York .

"The most beautiful makeup of a woman is passion, but cosmetics are easier to buy" ( Yves Saint Laurent )
Cosmetics Companies:
Make Up For Ever, Guinot, Guerlain, Christian Dior, Loewe, YSL.
Clients:
Macy's, Amazon, Zappos, Centric, MoMa Museum NYC, BrioGeo, Ottomila Eyewear, Portolano, Zeig Lab, Bloomingdales's, Kristian Loren, Gildan, BrassiBra, DV Italy, Manson (Italy), Idriss Guelai Atelier (Italy), S.I.L.K, ChoiBoko, Bank of America, All Star Code, The Elie Wiesel Foundation for Humanity, Lars Andersson, RUSH by Denis&Charles, Frank Agostino, Elisabeth&Clarke, Gallant, The Bolivares Nueva York, Manhattan Portage, Karla Vivian (Brazil), EsseLuna, SexiGuru, Mixology, Francesc Tell, Justicia Ruano (Spain) Arthur Miller Foundation, Foxcroft, Mizzfit (Bianca Jade), Youssef Lahlou.
Press:
Elle (Vietnam), Vanity Fair (Italy), Glassbook, StyleCruze, Superior, Runway, Switch (Italy), Fashionisto, DesignScene, People En Espanol, Swerv, HUF, Ellements, Teeth, Adon, Philippine Tatler, LadyGunn, Downtown Magazine.

Artists/Public Figures:
Leila Bekthi (Actress), Ann Magnuson (Actress/Singer), Monique Van Vooren (Actress/ NYC Socialite), Sean Young (Actress), Brian Greenberg (Actor) Emanuela Galiussi (Actress), Amir Arison (Actor), Jake Robards (Actor), Jane Stiles (Actress), Stew and the Negro Problem (Musician), Heidi Rodewald (Musician/Composer), Christina Lewis Halpern (Social entrepreneur/Journalist), Penny Arcade (Actress/Performer), Jewel (Singer), Isabela Moner (Actress/Singer), Dutchess Lattimore (TV Personality), Jewel (Singer), Kristen Taekman (Model/ TV Personality), Elena Goode (Actress/Model), Morrie (Singer/Performer), Phoebe Legere (Singer/Performer), Carol Lipnik (Singer), Wendy Stuart (Model, Public Figure), Tammy Faye (Singer), Fabio Canino (Actor/TV Host), Rossella Falk (Actress), Maddalena Crippa (Actress), Gennaro Cosmo Parlato (Singer), Roberta Formilli (Actress), Katia Beni (Actress), Anna Meacci (Actress).
Television:
Retroscena -RaiSat2000 (2009), Vier Tage Toskana - Endemol (Germany/Italy 2008), Markette -La7(2005)
Theater:
Bitch!Dike!Faghag!Whore! (2018), "Time Stand Still" at Theater for The New City (2018) "Longing Lasts Longer" (2016-2019), "Romanina" Teatro La Limonaia (2004), 'Fiesta" Teatro Colosseo (2002), "Ruddigore" Village Light Opera (1997)
Film/Video:
"Transit, a New York Fairytale" short film directed by Emily Dinova (2019), "DOM" short film directed by Meryl Jones Williams and Jane Stiles (2019), "Love Song for Bobby" music video by Haoyan of America, Sebastian Piras (2018), " The View From Up Here" short film directed by Marco Calvani (2017), "FOURPLAY" film directed by Dean Ronalds (2016), "BOOTS" short film directed by Alex Wolff (2014), ID Theft Campaign, video by Visual Country, client: Bank of Americas (2015), "What happens in Vegas, stay in Vegas" video campaign by Visual Country (2015), Araab Muzik, music video (2013).
CONTACT:
Michele Hierholzer at Civilized PhotoWorld LLC
email: micheleh@civilizedphotoworld.com